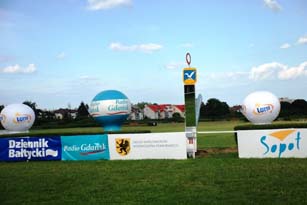 HORSE RACES have been held at the Sopot Hippodrome for many years. Horses from the stables of Warsaw and Wrocław mounted by the best Polish riders participate in these meetings. Additionally, races of French trotters mounted by the representatives of ShiUK are held.

During the races, parimutuel betting is a typical practice. Among others, the spectators bet on the the winning horse, the winning horse and the runner-up, the three first positions or positions to be won by a particular horse.


This exceptionally spectacular event gathers many visitors, both devoted fans and lay viewers as the races are easy to comprehend and exciting for everyone.

The races are widely described and advertised in the media: on TV, Radio, papers and in the Internet. Therefore, the promotion of our Partners and Sponsors has broad coverage.

Promotion during horse races:
Adding the name of the Sponsor to the name of a horseraces;
Sponsor's prize race;
Offering a certain advertising space on the fence around the racetrack;
Placing Sponsor's media vehicles by the entrances for the spectators;
Placing Sponsor's logos on the uniforms of the technical staff;
Placing Sponsor's advertisements at the show office, press office and information points.
Screening advertisements or logos of the Sponsor on the plasma screen (3 x 4m) at the beginning, at the end and in breaks between events;
Sponsor's logo on the billboards, horse races posters, advertising net on the main stand and information boards;
Sponsor's ballons and advertising flags within the area of Hippodrome;
Special contests for the spectators with awards funded by the Sponsor (in breaks between events);
Option of conducting additional promotion or sale within the area of the competition;
Speaker's information on the Sponsor at the beginning and at the end of each event;
Screening a couple of dozen of races advertisements featuring Sponsors's logo in regional TV;
Sponsor's name mentioned in the radio spots;
Ensuring broadcast of races in the nation-wide and local tv stations;
Ensuring broadcast of races in the Internet television;
Issuing the name/the logo of the Sponsor in the races advertisements published in papers, radio and the Internet;
Placing the Sponsor's logo on all print-outs connected with the event;
Issuing the Sponsor's logo and an advertising text on the horse races Internet website and on Hippodrome's fun page on Facebook;
Passing to Sponsor established number of VIP invitations.