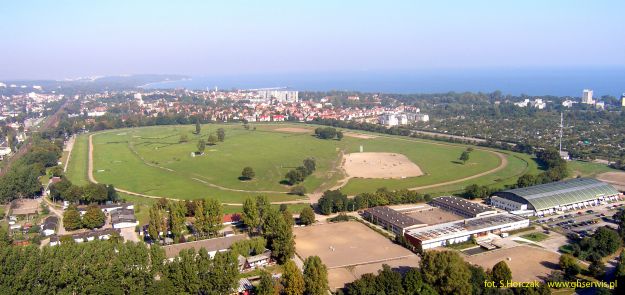 The Sopot Hippodrome, a place of rich tradition and more than 100 years history, is a venue for modern activities and dynamic development. What is a green island of calmness in the middle of the Tricity on a normal day, during competitions turns into a world-scale equestrian resort, full of life, people, excitement and versatile attractions.
Full range of equestrian events are organized here – from local, regional and national to the most prestigious and most important in the world. Competitions in jumping, dressage and eventing take place at the Hippodrome.

Exciting horse-races are organized in the season. We are trying to increase the number of racing days – to be able to host such competitions more often.

Riding lessons are offered here – you can learn horse-riding from scratch or develop your skills aided by experienced teachers. They offer lessons not only in Polish, but also in English, German, French and Russian. At the moment, the lessons are conducted outside, but we will have a modern dressage hall at our disposal soon.
Hippotherapy sessions are also held at the Hippodrome. This form of treatment gives many beneficial effects in psychomotor rehabilitation – developing mobility and sensory abilities, improves psychical and social skills.
A motel for horses is available on the premises – we offer horse-stalls with fodder and service. With the Hippodrome revitalisation programme is conducted, we have brand-new, modern box stalls both in professional and amateur stables available.
We offer a wedding carriage for rent – we have spacious, elegant convertible chaise and a sophisticated coach which will surely add a flavour of royal air to each wedding ceremony!

We can also rent the Hippodrome premises for different events – on the area of 38 hectares concerts, open-air exhibitions, sport events, rallies, team-building events, fairs, shows and many other events may be held. Running water and electricity are available. We can also offer a sunny weather on special request!

The Hippodrome is attractive also in winter – If you are in for some snow frenzy, come to one of our sleigh parties! Beautiful, spacious sleigh, accompanied with a row of toboggans is pulled by our marvelous horses dashing through the snow-covered racecourse. You simply have to give it a try!

Visit us at the Hippodrome!