International an National Three Day Event CIC3*, CIC2*, CIC1*, CNC-P, CNC-L
Sopot 29.04-01 05. 2016
Shedule CNC / Propozycje CNC (19.04, 13:30)
Dressage Test: CNC-P (CIC1* 2009), CNC-L
Timetable / Program - provisory (19.04, 13:00)
Entry list / lista zgłoszeń - (19.04, 13:00)
Stabling / rozstawienie w stajniach - (25.04, 13:00) (27.04.2016, 17:30)
RESULTS CIC, CNC (dressage, cross country, jumping, final)
CIC1*, CIC2*, CCI3*, CNC-L, CNC-P 02-04 10 2015
---
Eventing in Sopot 2014
03-05.10.2014
iMPORTANT INFORMATION:
RIDERS NIGHT FEVER
SOBOTA 20:30
SATURDAY 8.30 P.M.
BLACK TRIBUNE
(NEXT TO GATE : SOPOT WYŚCIGI)
RIDERS MEETING (1*,2*,3*) - THURSDAY
ORANGE HALL 1st FLOOR AT 8:00 P.M.
ANNOUNCEMENT
From 3.10 (friday) – eventing live broadcast on radio frequency 108 Hz.

08-10.08.2014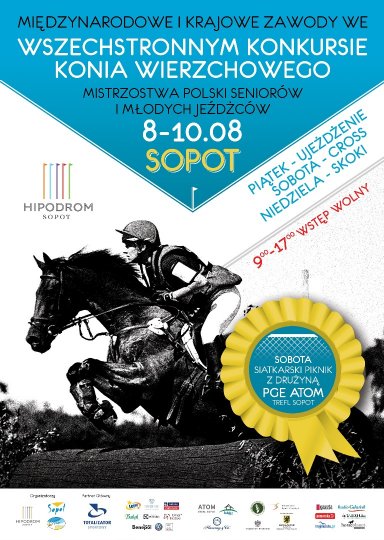 25-27.04.2014
Eventing in Sopot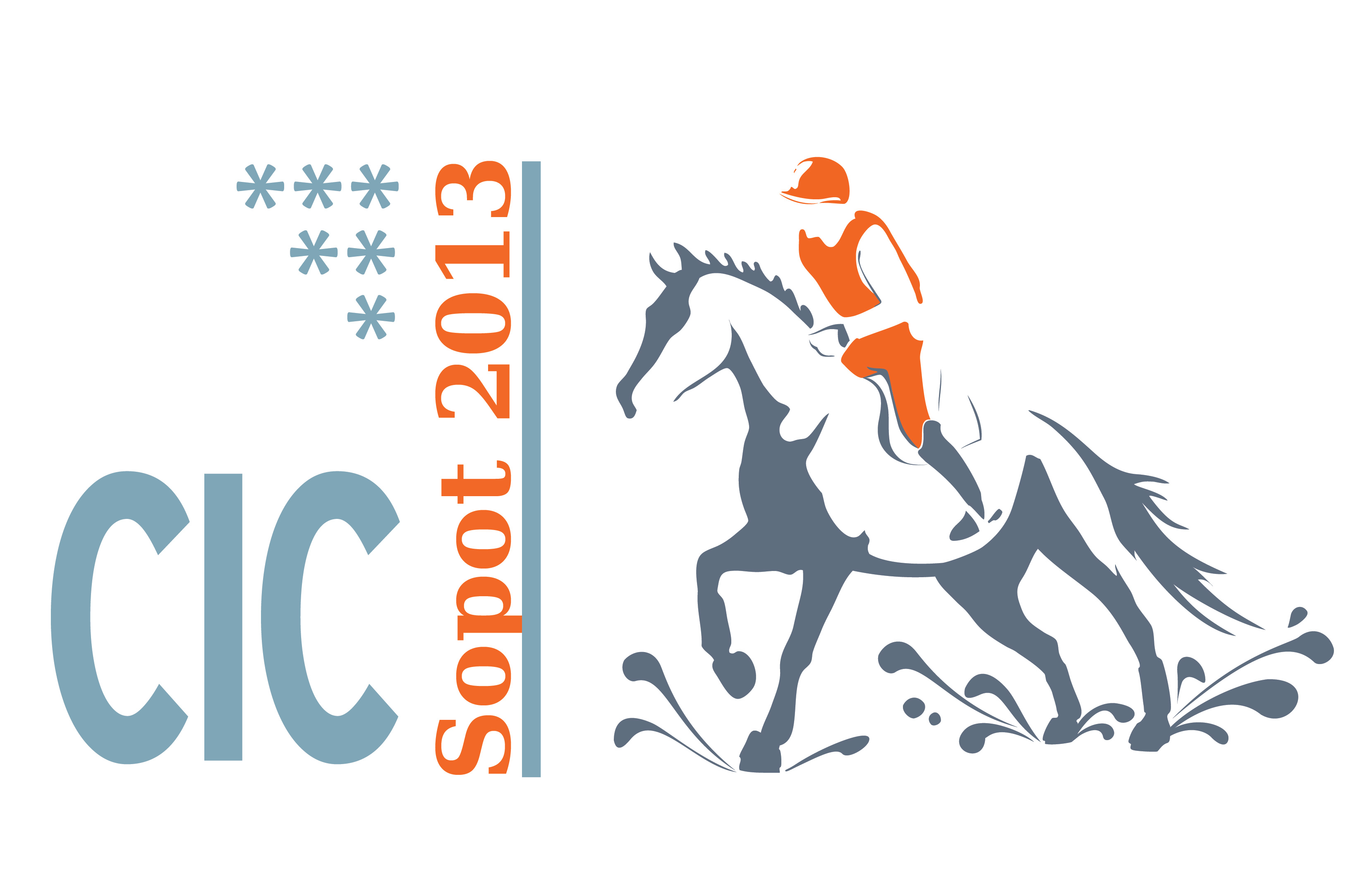 26 - 28.04.2013
On 26 - 28 of April we will have in Sopot International Eventing Competition.
It is one of the qualifications to the Polish Eventing Cup.
Entries for CIC and CNC: click here.
Timetable:

Friday 26.04.2013:

09:00 Dressage CIC*
09:00 Dressage L
09:30 Show jumping L
09:07 Dressage CIC**
12:00 Lunchbreak
13:00 Dressage CIC***

13:30 Dressage P
14:15 Dressage LL
14:45 Show Jumping LL
17:00 Show Jumping P
18:00 Meeting of Athlets

Sobota 27.04.2013
08:30 Cross LL
09:25 Cross L
11:30 Cross CIC***
13:20 Cross CIC**
14:40 Cross CIC*
16:30 Cross P


Niedziela 28.04.2013
08:00 Horse Inspection CIC*, CIC**, CIC***
10:00 Show Jumping CIC*
12:30 Show Jumping CIC**
13:30 Show Jumping CIC***
14:15 Prize-giving & medal ceremony CIC***
---
STARTING LISTS, RESULTS CIC
STARTING LISTS, RESULTS CNC
We would like to invite You to Hipodrom Sopot for Three Day Eventing on 27-29.04.2012 and 03-05.08.2012!
Results:
Final results:
Cross and Dreassage results:
Cross, Saturday 28.04.2012:
Dressage, Friday 27.04.2012:
Upload:
Start Lists for the Dressage Test:
Draft Schedule:
Three Day Eventing is the most spectacular equestrian event comprising dressage, cross-country, and show jumping. Eventing is an equestrian triathlon, in that it combines three different disciplines in one competition set out over one, two, or three days, depending on the length of courses and number of entries.
This year in April (27-29) and August (03-05) we will held International and National Three Day Eventing. We have already invited riders form European National Federations (Belarus, Czech Republic, Denmark, Estonia, Finland, Netherlands, Lithuania, Latvia, Germany, Norway, Russia, Sweden, Great Britain). Our competition is set out over three days, each day horses and riders have to compete in different disciplines:
Friday – during the

dressage test

riders has to show an exact sequence of movements ridden in an enclosed arena . The test is judged by one or more judges who are looking for balance, rhythm, suppleness, and most importantly, obedience of the horse and its harmony with the rider. The horse has to perform in a graceful, relaxed and precise manner.
The next phase,

cross-country

( held on Saturday), requires both horse and rider to be in excellent physical shape and to be brave and trusting of each other. This phase consists of fences placed on a long outdoor circuit. These fences consist of very solidly built natural objects (telephone poles, stone walls, etc.) as well as various obstacles such as ponds and streams, ditches, drops and banks, and combinations including several jumping efforts based on objects that would commonly occur in the countryside.. However, these are still designed to be as solid as more natural obstacles
On Sunday

show jumping tests

will check the technical jumping skills of the horse and rider, including suppleness, obedience, fitness and athleticism. In this phase fences are set up in a ring. These fences are typically brightly colored and consist of elements that can be knocked down, unlike cross country obstacles. In addition to normal jumping skills, eventing show jumping tests the fitness and stamina of the horse and rider, generally being held after the cross-country phase.
The winner is the horse and rider with the fewest penalties accumulated from dressage, cross country and jumping phases.